Extremely low interest rates and ample liquidity have provided a tailwind for growth equities in recent years, but that picture has been completely turned on its head this year. Surging yields and widespread uncertainty about future growth rates have hit many growth stocks hard and paved the way for a significant outperformance for value stocks – including many of the companies in the Danske Invest Europe High Dividend fund.

"As yields begin to normalise, the headwind for value stocks is reversing, which is also generally positive for high dividend, where we continue to see good potential for outperformance," says chief portfolio manager Peter Nielsen, who manages the portfolio alongside senior portfolio manager Asger Lund Nielsen.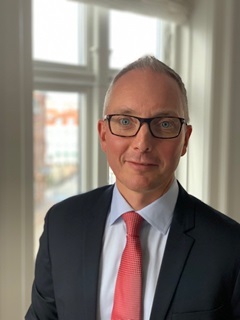 High dividend payments right now are often a tempting benchmark for investors, but this is no guarantee a company's long-term business model is sound and sustainable. Peter Nielsen, chief portfolio manager at Danske Bank Asset Management.
Where do you see the greatest potential within high dividend?
"Our most significant exposures at present are in the utilities and financials sectors, and within financials our main focus is on insurance, but we also have banks in our portfolio. In general, we focus on companies capable of paying high dividends to shareholders year after year. These companies are often characterised by stable business models with a high degree of earnings predictability and stable cash flows – quality companies, in other words – and these are much sought after characteristics among many investors, especially in the current market environment," explains Peter Nielsen.


Why financials is our preferred sector
Financials has always been the largest sector in Danske Invest Europe High Dividend – chief portfolio manager Peter Nielsen explains why:

"Financial sector valuations are low relative to the market and the sector typically generates good cash flows and solid dividends. While the sector is rather sensitive to the economic cycle, we have tended to overweight insurance companies in recent years, which are slightly less cyclical than banks. Moreover, earnings from insurance have generally become more stable and the business more profitable over the years. The recent low-yield environment made it difficult for insurance companies to achieve good investment returns from bond markets, and that forced companies to become more disciplined in terms of pricing and risk tolerance in their insurance dealings."

Your portfolio consists of around 35 high dividend paying European stocks. How do you go about selecting individual equities?
"We make our initial equity selection using a quantitative model that reduces the equity investment universe to a list comprising the 40% of companies that have the best combination of high dividend yields, low valuations and high and stable returns on equity (ROE). We then pick individual stocks for the portfolio based on a detailed fundamental analysis together with company visits and meetings with management."

You have a long-term view on dividend payments – how is that reflected in your stock picking?
"During our stock selection process, we focus not just on a company's operations but also its growth potential. High dividend payments right now are often a tempting benchmark for investors, but this is no guarantee a company's long-term business model is sound and sustainable. That is why we endeavour to select companies with solid business models and competent management, so we can also expect attractive dividend payments in the future."

Almost 20 years' experience
Peter Nielsen and his colleague Asger Lund Nielsen have focused on dividend stocks since Danske Invest launched its first fund of this type in 2003, so their investment process is based on many years' experience of selecting dividend stocks.

What is the overall dividend yield for the equities in your portfolio?
"Currently it is around 5.3% based on expected dividends for 2021 to be paid during 2022. The outlook includes extra dividends this year, in part due to the restrictions for the banks' dividend payments during the Covid-19 pandemic. By way of comparison, the average dividend yield for European equities (STOXX 600) is around 3.1%, while for US equities (S&P 500) it is lower at around 1.5%. Europe has traditionally been the region that offers the highest dividend yields, while companies in the US are more focused on share buybacks and investing in growth."

DISCLAIMER: This publication has been prepared as marketing communication and does not constitute investment advice. Please note that historical return and forecasts on future developments are not an indication of future return, which can be negative. Always consult with professional advisors on legal, tax, financial and other matters that may be relevant for assessing the suitability and appropriateness of an investment. Please refer to the prospectus and the key investor information before making any final investment decision. The prospectus, the key investor information of the fund and information regarding complaints handling (investor rights) can be obtained in Danish here (under "Documents"). Danske Invest Management A/S may decide to terminate the arrangements made for the marketing of its funds. More information on the sustainability-aspects of the fund can be obtained here. The decision to invest in the fund should take into account all of the characteristics of the fund as described in the prospectus.