Kasper Brix-Andersen is constantly striving to identify the best investment opportunities in Europe. Together with senior portfolio manager Tobias Carøe Siemenge, he stock picks equities for the fund Danske Invest Europe. The portfolio managers have their own systematic method for identifying winning equities on the European stock market.
In their eyes, the three key factors when selecting equities are quality, potential and valuation:
"We are constantly seeking companies where these three factors coalesce – in other words, where the foundation of the company is solid, where we see a good potential for value creation, and where the share price is sufficiently attractive," explains Kasper Brix-Andersen, chief portfolio manager of the fund.
On the three factors, he adds:


The three key factors for equity selection
QUALITY: "Here, we assess the foundation for future value-creation in the companies. We place an emphasis on quality factors, such as the strength of the business model, return on equity (ROE), debt levels and capital allocation, the quality of the management and relevant sustainability criteria – also known as ESG (environmental, social, governance) factors."
POTENTIAL: "Here, we assess the potential for future value-creation in the companies. We look at internal growth drivers in companies, such as new products or markets, efficiencies and acquisitions, as well as external changes, such as globalisation, regulation, climate change and shifts in consumption patterns."
VALUATION: "Finally, we assess the price investors pay for the potential future value-creation in the companies. When assessing company valuations, we employ relevant key figures, various valuation models and peer group analyses – ie, comparisons with similar companies."
Broad exposure to sectors
In all, their portfolio consists of shares in 40-50 large and medium-sized European companies, and the portfolio managers endeavour to have exposure to most of the major sectors, such as industrials, technology, healthcare and financials, in order to avoid the unintentional accumulation of risk in individual sectors.
"Our ambition is primarily to create excess return via active stock picking of individual equities and to a lesser extent via over and underweighting at sector level. At the same time, good sector diversification makes the portfolio less vulnerable to fluctuations in the business cycle, which is important for us," says Kasper Brix-Andersen.
The two portfolio managers' stock picks are not only based on their own company research and analysis, but also on the know-how and input of six additional Danske Invest portfolio managers who intensively follow the individual companies and sectors in Europe and also closely monitor the economy, trends, regulations, etc.
"All in all, this enables us to cover the European equity market closely and in-depth," says the chief portfolio manager.
ESG as a value-creating factor
Focusing on relevant ESG factors – in other words, environmental, social and governance factors – is an important and value-creating aspect of the portfolio managers' fundamental analysis of companies.
"By incorporating ESG factors into our company analyses we obtain a fuller picture of the relevant risks and opportunities in companies, which enables us to make better investment solutions," says Kasper Brix-Andersen.
The portfolio managers are in regular dialogue with companies in the portfolio about both financial and ESG factors that can affect their business.
"By addressing important challenges directly with companies we can contribute to them integrating sustainability into their business and help support their positive development and long-term value creation," explains the chief portfolio manager.
Philosophy behind the hunt for winning equities
Chief portfolio manager Kasper Brix-Andersen and senior portfolio manager Tobias Carøe Siemenge have a number of key principles that govern their management of the Danske Invest Europe portfolio:
Discipline, focus and consistency create value
Decisions should be based on research and without feelings
Document all actions and decisions
Be humble: "No-one is a greater fool than yourself" principle
Challenge assumptions and learn from your mistakes
Capitalise on periods of extreme greed and extreme fear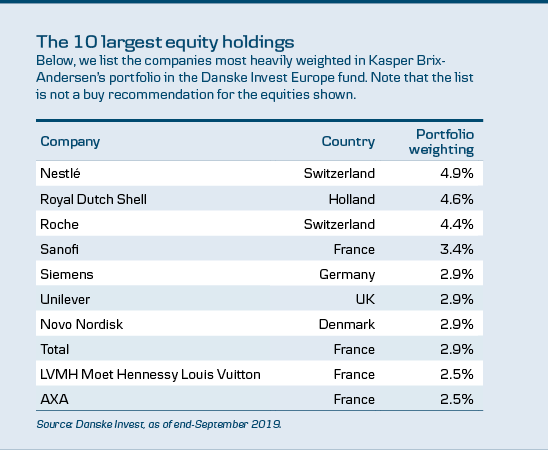 Danske Bank has prepared this material for information purposes only, and it does not constitute investment advice. Always speak to an advisor if you are considering making an investment based on this material to establish whether a particular investment suits your investment profile, including your risk appetite, investment horizon and ability to absorb a loss.