The portfolio manager team behind Danske Invest SICAV Europe Class I ("Danske Invest Europe") scooped a Morningstar award in mid-February as Denmark's best fund for European equities1. Since then, the war in Ukraine has thrown the European equity market into a period of great uncertainty.

Danske Invest Europe is not directly invested in either Russia or Ukraine. Nevertheless, the war has had a number of knock-on effects that impact most listed companies in Europe one way or another. We have asked the portfolio team from Danske Bank Asset Management what the war in Ukraine has meant for their work with the portfolio.

"The war in Ukraine has without doubt been very time-consuming for an active manager like us. Our job is to keep constantly abreast of what is happening and be ready to adjust the portfolio in relation to new developments – but that does not actually mean we have had many changes to our portfolio line-up. We have generally been where we wanted to be and so far have only sold a single company during the time the war has been raging."
Kasper Brix-Andersen, chief portfolio manager, Danske Bank Asset Management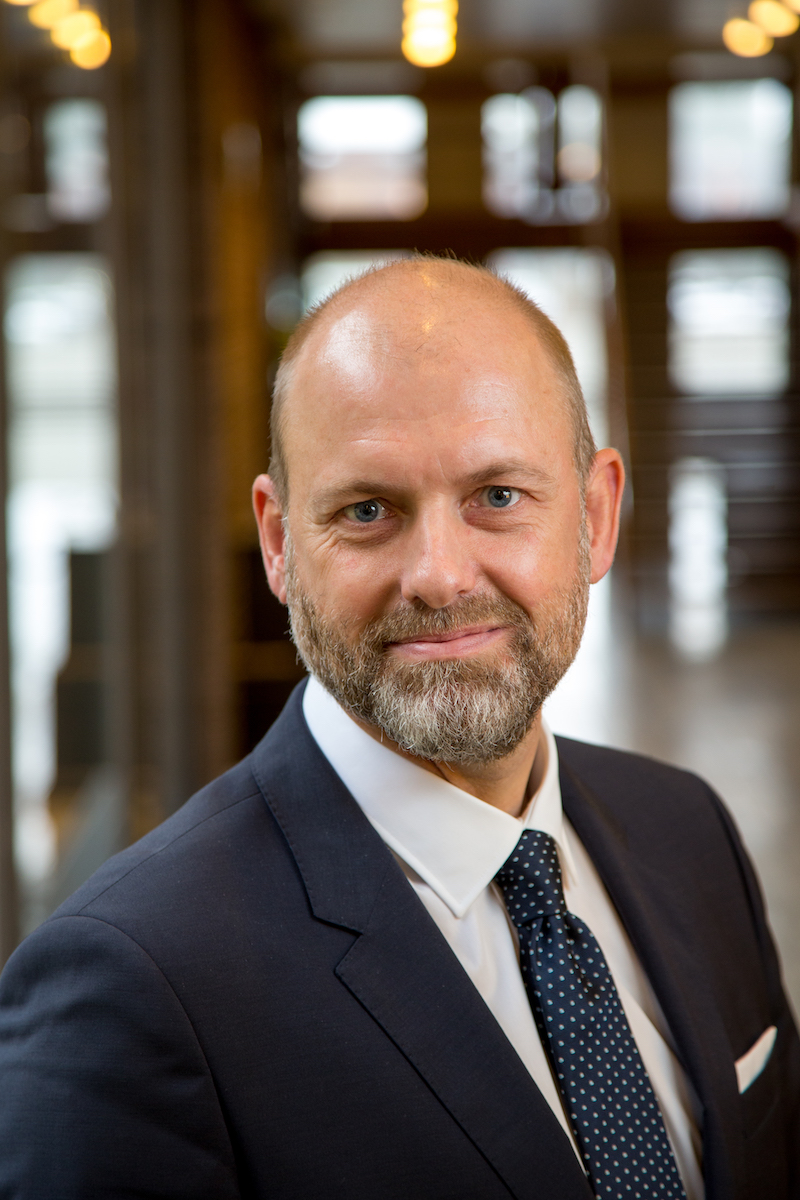 Resilient companies in times of crisis
One explanation for the limited trading activity is to be found in the fund's long-term strategy, which is focused on solid and well-run companies. The portfolio is thus a robust mix that is not so easily shaken by crises or unforeseen events.

"Our investment strategy is based primarily on the selection of each individual stock. We do not aim to be more present in particular sectors, which means our excess return has to be found in the individual companies. We have a relatively concentrated portfolio where the quality of the companies we invest in is critical. That means the companies have to be well-run, well-capitalised and have a strong market position, which makes them more resilient in times of crisis," explains Tobias Carøe Siemenge, who is senior portfolio manager and the other half of the portfolio team.

Our most important task is to ensure our fund is well-diversified and contains the quality companies that our research indicates are best prepared for the future.Tobias Carøe Siemenge, senior portfolio manager, Danske Bank Asset Management.
Pricing power a strong trait
Europe's proximity to Russia both geographically and economically means the continent has been more affected by the war than other regions. Rising energy prices, tough sanctions against Russia and disrupted supply chains are weakening growth in Europe and have only added to inflation, which was already being fuelled by the Covid-19 pandemic. This in turn has given momentum to rates and yields, which are steadily rising.

"There is no doubt that the European equity market is beset by increased uncertainty right now. However, one of the advantages of focusing on quality companies is that they are typically more resilient when economic conditions change – for example, in terms of pricing power, which means these companies can raise prices without unduly affecting demand. This is because of the companies' market position, which has a high priority for us. We take into account where the companies are positioned in the value chain and their options for adjusting pricing as developments unfold," says Kasper Brix-Andersen.

READ ALSO: Danske Invest fund best for European equities

Length of conflict decisive
The two managers are less than keen to predict how the rest of the year will evolve. Naturally, much will depend on how the invasion progresses and how long the war lasts. Being an investor in 2022 generally and particularly in Europe has so far required a very cool head. As of 22 April 2022, Danske Invest Europe had generated a year-to-date return of -5.4 per cent (in DKK), which is in line with market return.2

"As has been the case for the close to four years we have been responsible for investments in Danske Invest Europe, our primary focus is on our strategy and equity selection. Our most important task is to ensure our fund is well-diversified and contains the quality companies that our research indicates are best prepared for the future," concludes Tobias Carøe Siemenge.

NOTES: 1The Morningstar award was given to the fund Danske Invest Europa 2 KL. Several other Danske Invest funds with European equities follow the same strategy, including Danske Invest SICAV Europe Class I. 2Return data for Danske Invest SICAV Europe Class I: 2022 (as of 22 April 2022): -5.4%, 2021: 25.4%, 2020: 2.7%, 2019: 28.9%, 2018: -10.2%, 2017: 5.2%, 2016: 0.4%, 2015: 14.2%, 2014: 5.9%, 2013: 15.3%, 2012: 11.7%. Historical return is not a reliable indicator of future return, which can also be negative.




DISCLAIMER: This publication has been prepared as marketing communication and does not constitute investment advice. Please note that historical return and forecasts on future developments are not an indication of future return, which can be negative. Always consult with professional advisors on legal, tax, financial and other matters that may be relevant for assessing the suitability and appropriateness of an investment. Please refer to the prospectus and the key investor information before making any final investment decision. The prospectus, the key investor information of the fund and information regarding complaints handling (investor rights) can be obtained in Danish here (under "Documents"). Danske Invest Management A/S may decide to terminate the arrangements made for the marketing of its funds. More information on the sustainability-aspects of the fund can be obtained here. The decision to invest in the fund should take into account all of the characteristics of the fund as described in the prospectus.