Through New York Summit 2020 - this year transformed into a series of virtual sessions -- Danske Bank sheds light on the crucial future of American politics and geopolitics in the wake of the US presidential election as well as the state of global business and the economy during the COVID-19 pandemic.
Watch a short recap
6e49d474-00090249-9a5cd0fe

Key takeaways from Bolton
The USA faces two main threats at the strategic level – Russia and China. Russia because of its nuclear capabilities and its influence through use of the oil and gas export weapon. China is the existential threat for the West as a whole in the twenty-first century. These are threats that have to be judged and planned for over an extended period of time.Ï
Internationally, we are entering into a period of great uncertainty. The aggressive and in some cases belligerent steps China has taken not only politically and militarily but also economically – by turning Huawei, for example, into an arm of the Chinese state – is going to make this decade fraught with difficult issues.
The more immediate threats on a tactical level are the proliferation of nuclear weapons in Iran, North Korea and possibly other countries, and the proliferation of the other two weapons of mass destruction – biological and chemical weapons. These are real and current dangers. We also still have the threat of radical Islamic terrorism, which has not gone away.
In most foreign policy areas, Joe Biden's default position will be the policy of the Obama administration. Compared to Donald Trump, Joe Biden has taken – at least rhetorically – a harder stance on China, and there are leaders within the Democratic Party who for various reasons have taken a harder line on China.
About Bolton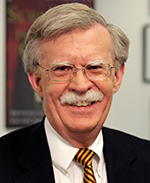 One of America's most prominent policy voices, John Bolton is a lawyer and diplomat who has spent his career fighting to protect American national interests.
As the U.S. Ambassador to the United Nations during the George W. Bush administration, Bolton strongly defended American economic and security interests, as he did throughout his time at the State and Justice Departments.
As National Security Advisor to President Donald Trump, Ambassador Bolton championed a strong and resolute US foreign and defence policy. He scored key policy victories during his recent White House tenure, such as overseeing President Trump's withdrawal from the 2015 international nuclear deal with Iran, reached under former President Obama. He also served as a crucial force in strategic conversations with North Korean dictator Kim Jong Un, seeking broad concessions from Kim about his weapons of mass destruction.
New York Summit - what you need to know
A recurring annual event for Danske Bank's corporate and institutional clients about investments, economy, politics and geopolitics.
Featuring some of the world's most prominent thinkers, analysts and strategists.
Usually the event takes place in New York. Due to the global Covid-19 pandemic, it was decided to transform this year's event into a series of virtual sessions.