Our ESG work
At Danske Bank Asset Management, we always consider ESG factors in conjunction with the financial aspects to assess a business from a holistic perspective. Through dialogue and active ownership, we endeavour to influence environmental matters and social conditions as well as the corporate governance of our investee companies or countries.
Does it make sense to talk about ESG when investing in countries that often face more fundamental problems? Portfolio manager Bent Lystbæk is quite clear on the matter:

"ESG is extremely important when assessing a country's credit risk, and especially the G in its broadest sense – in other words, when it also includes the governments and civil service in the individual countries in addition to corporate management," he says.
In some cultures, getting people to speak openly is easier when you meet face-to-face and one-on-one, because there is less risk of eavesdropping.Thomas Haugaard, analyst, emerging markets debt.
"Good governance is a key pillar for economic growth, as it encompasses the country's political framework, economic policy, private property rights and a competent legal system," adds portfolio manager Jacob Ellinge Nielsen.

Together with analysts Thomas Haugaard and Sorin Pirau, they form the management team behind our highly regarded emerging markets debt hard currency strategy at Danske Bank Asset Management, investing in government bonds in countries such as Mexico, Ivory Coast, Mongolia and Jamaica.

Worldwide network
Since access to data and analyses on credit risk in developing countries is limited and the information in many cases outdated, the emerging markets debt team has to be at the forefront or at least be kept updated on what is happening in this investment universe and with the governments of the individual countries.

For instance, the team must be fully up-to-date on all major political events in their investment universe. They always know when elections are due in their countries, for example, as changes to the political system may have a significant impact on the country's credit risk.

READ ALSO: How we try to influence Maersk in the right direction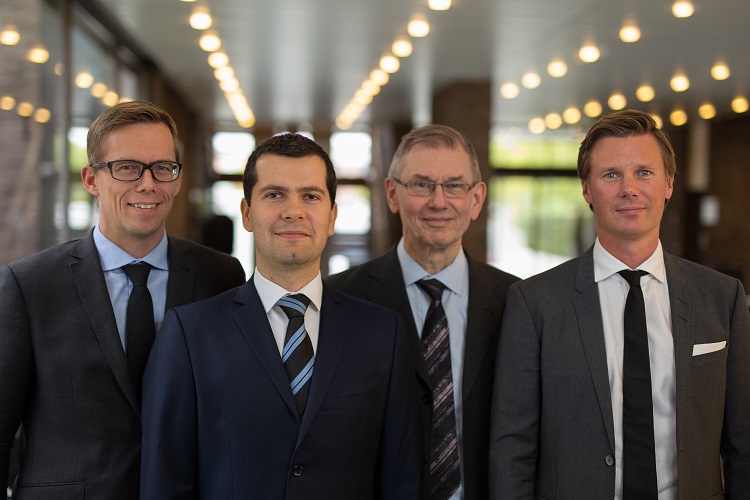 Our emerging markets debt hard currency team: Thomas Haugaard, Sorin Pirau, Bent Lystbæk and Jacob Ellinge Nielsen.

"Prior to the corona pandemic, Sorin and I travelled to about 20-25 countries a year to meet political decision makers, think tanks, state-owned businesses, private sector representatives and some of the largest financial institutions in the country to get a feel for the political challenges and opportunities they face," says analyst Thomas Haugaard, who emphasises that this contact is extremely important to the team.

Due to travel activity being curtailed in the past two years, the team turned to plan B – online meetings – which was only possible because of the intensive groundwork they had done to establish a strong international network.

Body language important
Analysts Thomas Haugaard and Sorin Pirau are the primary globetrotters. They look forward to meeting face-to-face with their network again, as being able to assess body language and read between lines when they ask questions is an important issue for them. This is especially true when analysing G factors.

"Meeting people in real life allows you to get a sense of the situation. Meetings become more dynamic and dialogue-based and participants more engaged. A Teams meeting can be more passive, which in turn tends to generate fewer questions," says Sorin Pirau.

READ ALSO: Rising of the S in ESG – and how it affected our investment in Adidas

Thomas Haugaard points out that in extreme cases physical meetings are crucial to obtaining information.

"In some cultures, getting people to speak openly is easier when you meet face-to-face and one-on-one, because there is less risk of eavesdropping. In Venezuela, you more or less have to be present, otherwise getting any information out of people is near impossible. In Turkey, their President has created a fear of who might be listening in," he explains.

Due to still ongoing corona restrictions in many countries, the team does not expect to recommence travelling until later this year.

This publication has been prepared as marketing communication and does not constitute investment advice. Note that historical return and forecasts on future developments are not a reliable indicator of future return, which may be negative. Always consult with professional advisors on legal, tax, financial and other matters that may be relevant to assessing the suitability and appropriateness of an investment.