Founded in the 11th century, Marrakech is a city steeped in history and famed for the stunning architecture of its Medina, its beautiful gardens, vibrant souks and the warm hospitality of the people. Despite the air of calm and order, September's devastating earthquake was never too far from our minds. We were impressed by the resilience demonstrated by the people of Marrakech, and by just how seamlessly the event was run. Marrakech's renowned hospitality was on full display, and we are grateful for the kindness and warmth with which they received us.

These meetings provided us with valuable insights and perspectives on the critical issues facing emerging markets. Being able to engage directly with so many key stakeholders from these countries, all together in one location, has immense value for us as investors. We were able to ask the challenging questions, get our key concerns addressed, and depart Marrakech much wiser and with plenty to digest.

We share some of our most interesting insights below to give a flavour of what we learnt during our visit.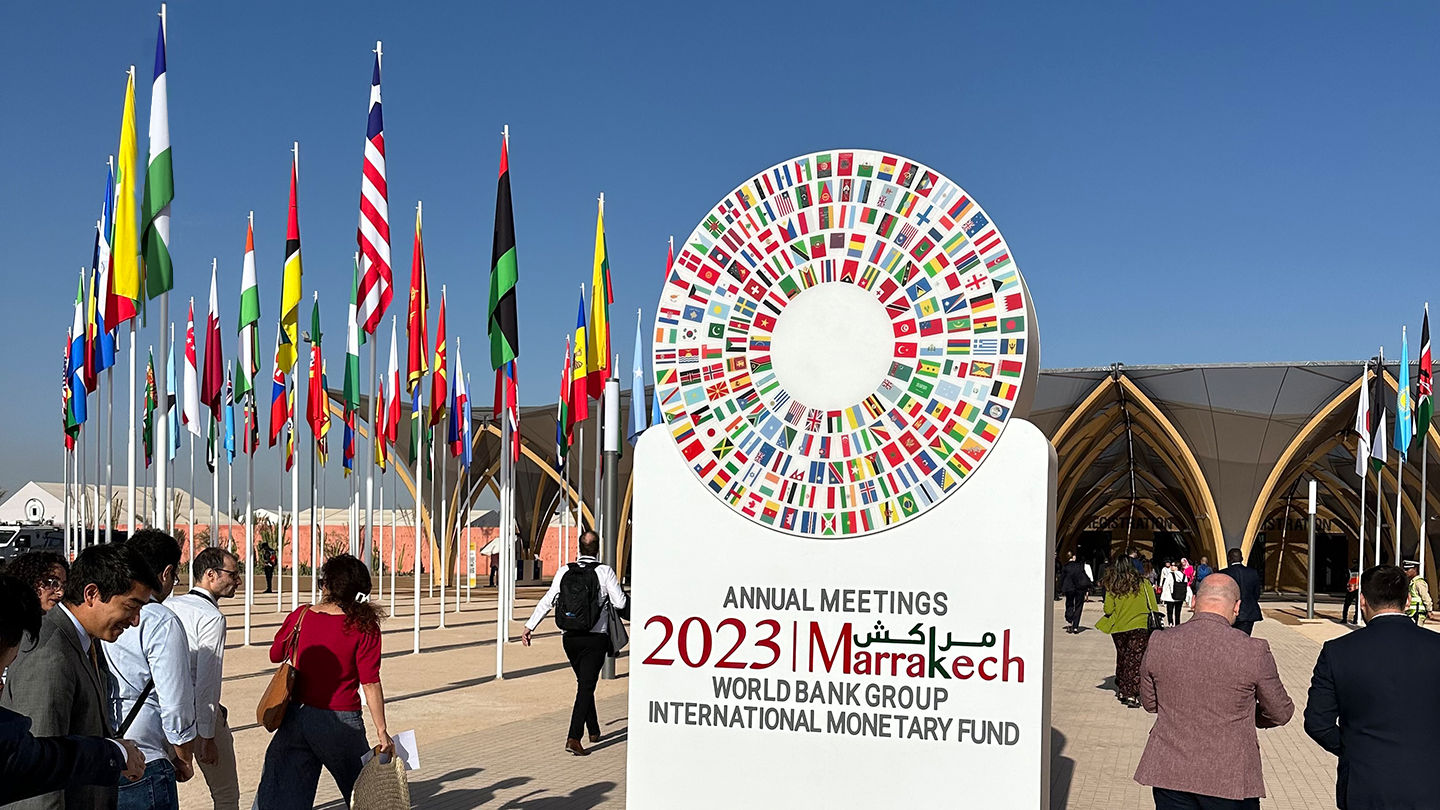 World Bank-IMF Annual Meetings

Turkey – finally on the cusp of unlocking some of its enormous potential
We had an opportunity to meet with several stakeholders in Turkey, including new Finance Minister Simsek, new central bank Governor Erkan, and representatives from the private sector. While we arrived in Marrakech optimistic about Turkey's prospects with some reservations about the strength of the commitment to recent reforms, we leave much more convinced that Turkey is finally on the right trajectory.

It is clear to us the authorities are now focused on the right goals of subduing inflation, fiscal prudence and laying the foundation for sustainable growth. We have had reservations about President Erdogan's commitment to change and to a return to policy orthodoxy. However, following our conversations with Simsek and Erkan, we stand more convinced that the President has surrounded himself with credible people willing to deliver uncomfortable but ultimately necessary measures, and that he understands the failings of the previous growth model.

While efforts to shift Turkey's economic mix away from unsustainable credit-driven growth towards one anchored on tighter monetary policy and sound investment policies could lower growth in the near term, ultimately these should produce a more robust, sustainable economy based on solid foundations.

Taken together, we believe that this new policy mix and credible new economic team suggests that Turkey may be on the brink of unlocking some of the country's enormous potential.

Central American Exceptionalism – Costa Rica and El Salvador continue to deliver
We held several roundtable discussions with Finance Ministers Acosta of Costa Rica and Posada of El Salvador, representatives from the IMF and rating agency analysts. Taken together, the meetings reaffirmed our conviction that these two Central American nations remain firmly on the correct path of fiscal prudence and reform.

Costa Rica has undergone a remarkable adjustment since the pandemic – turning around a deep pre-pandemic primary fiscal deficit of -2.6% into a 2.1% surplus in 2022, while comfortably outperforming all quantitative performance criteria set by the IMF1. The IMF expects Costa Rica to sustain a primary surplus through to 2028 which, if backed by continued commitment from the authorities and minimal revisions to the fiscal rule, should drive public debt down to well below 60% of GDP.

Costa Rica is often coveted as a global ESG leader, championing the green energy transition and biodiversity protection, while standing out among Latin American peers on social and governance indicators. In our view, Costa Rica's ongoing commitment to fiscal adjustment and debt sustainability could soon see it upgraded to an investment grade rated sovereign, which should drive down its cost of borrowing.

El Salvador's bonds have been star performers this year, as investors warmed to the idea of a much improved security situation, the associated rebound in economic activity and ongoing fiscal consolidation efforts2. While President Bukele's first term in office has centred on security issues, we believe a likely second term will focus on ongoing fiscal adjustment and improving El Salvador's international standing. We are seeing fruits of these efforts already under way, with a notable thawing in relations with the US and constructive talks with the IMF. We left our meetings feeling that a 2024 IMF program is a distinct possibility, and that current IMF roadblocks such as El Salvador's adoption of Bitcoin as an official currency are not insurmountable.

Plenty of scope for optimism in the Western Balkans
We leave Marrakech optimistic about the future of the Western Balkans. We met with the authorities in Montenegro, North Macedonia, and Serbia, and we were impressed in all three cases. The EU accession story remains a positive force for the entire region, which we believe will contribute to increased foreign direct investment and ultimately higher growth. Large infrastructure investments will allow for more efficient economies and increased connectivity to European trading partners.

All three countries have been experiencing solid growth, with Montenegro among the fastest growing economies in Europe last year. During our meetings, the authorities expressed credible plans to ensure prudent fiscal policy, with North Macedonia outlining fiscal reforms and Montenegro pointing to strong growth in government revenue collection. The respective current accounts have been benefitting from strong export growth, including in manufacturing and tourism. Government funding needs are manageable, and while all three are likely to need to turn to markets in 2024, they expect to be in a position to issue opportunistically.

From our discussions, we were heartened by the environmental commitment in these countries; North Macedonia and Serbia spoke of green growth as a key priority for the government, and Montenegro pointed to hydropower capacity and the potential for increased clean electricity exports to Italy through the recently finished undersea cable.


1 Costa Rica: Fourth Review Under the Extended Arrangement Under the Extended Fund Facility, First Review Under the Resilience and Sustainability Arrangement, Request for Modification of Reform Measure Under the Resilience and Sustainability Facility, and Monetary Policy Consultation-Press Release; and Staff Report (imf.org) - Read more

2 El Salvador is the top-performing constituent of the JPMorgan EMBI Global Diversified Index as of 20th October 2023 in total return USD terms.
"This publication has been prepared as marketing communication and does not constitute investment advice. Please consult with your professional advisors about the legal, tax, financial or other matters relevant to the suitability and appropriateness of an investment to ensure that you understand it's risks."