ESTATE HANDLING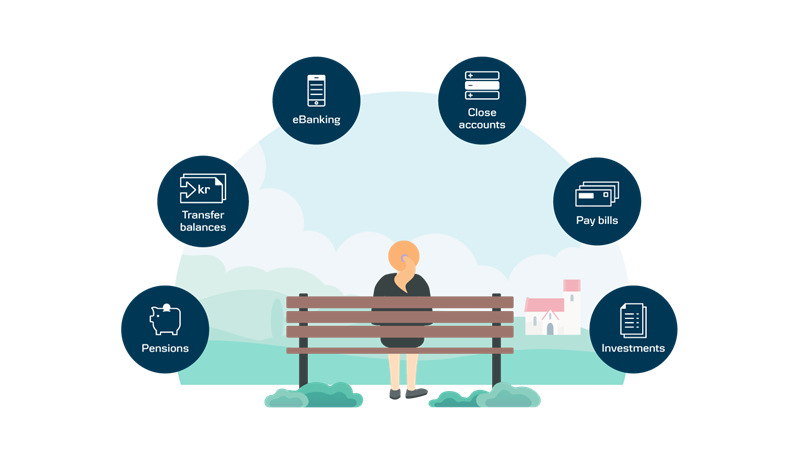 Shortly after we have been notified of a customer's death, we send a statement of the deceased's accounts and custody accounts, if any, at the date of death to the probate court.
In order to help you, we require the following documentation:
- Probate court certificate (or other legal inheritance document)
- Power of attorney, if any
- Proof of identity
Proof of identity for beneficiaries
When we process the estate of a private individual, we must make sure that we release funds and assets to the right persons. To do this, we need photo ID for all mandate holders and beneficiaries. If a beneficiary is already a Danske Bank customer and has provided sufficient proof of identity, you are not required to re-submit the documentation. If you are in doubt, please give us a call.

Please note that we unfortunately cannot process an estate until we have received proof of identity from all beneficiaries and, where applicable, mandate holder(s).

What proof of identity do we require?
You must provide one type of photo ID. Accepted forms of photo ID include a copy of your passport, driver's licence or identity card issued by Borgerservice.
Alternatively, you can send copies of at least two of the following documents as proof of identity:
- Danish health insurance card
- Birth or name certificate
- Your most recent annual tax assessment notice or preliminary income assessment from the Danish tax authorities

Do you live abroad?
If you live in a country other than Denmark, we require a copy of valid photo ID such as your passport, EU/EEA driver's licence or national identity card.

If you are a beneficiary holding a mandate authorising you to operate the accounts of the estate and you require access to the accounts via Danske eBanking, you have to provide two types of proof of identity:
- A copy of above-mentioned photo ID and
- A copy of your Danish health insurance card

Please ensure that all ID types are valid and that the copies are fully legible with no strikethroughs or other deficiencies.

What you need to do
Send the copies to us by filling in the form below. Then click Submit information.
– or call us on + 45 45 13 93 33