ESTATE HANDLING
If you have lost one of your loved ones, you can get help and guidance for the financial issues that arise. We know that there may be many questions about a death at such a difficult time. We have therefore tried to cover the most common topics about finance, rights, and opportunities here.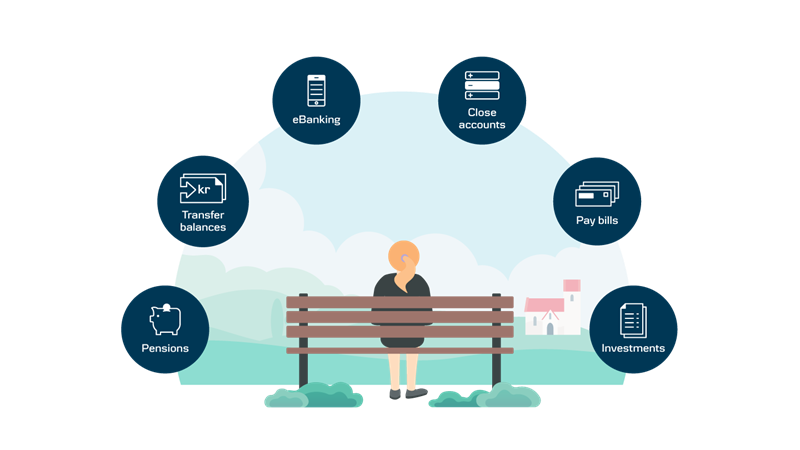 We will send a statement of deceased accounts and any deposits per day of death shortly after we are informed about the customers death. If you were married to a deceased, you may need a corresponding statement of your own accounts and any depots. You will get it by filling out the web form below.
Before we can help you, we need the following documentation:
- Probate certificate
- If any, power of attorney
- Legitimation
Legitimization of heirs
To be sure that we settle the estate, we need to use photographic identification on all mandate holders and heirs in private estates. If an heir is an existing Danske Bank customer and already provided sufficient legitimacy in the past, you are not required to re-submit this documentation. If you are any doubt please call us on the number at the foot of this page.

Please note that unfortunately we can not handle the estate until we have received legitimation from all heirs and if applicable mandate holder(s).

What legitimation do we require?
You must provide one piece of photo identification:

A copy of passport, driver's license or identity card issued by Borgerservice.

Alternatively, you can send copies of at least two of the following documents as proof of identity: DK health insurance card, baptism - or name certificate, latest yearly tax assessment notice or preliminary income assessment from the DK tax authorities.

If you as the heir with power of attorney want to get access to the estate via e banking, you will have to provide two pieces of legitimation: one copy of above mentioned photo identification and a copy of your DK health insurance card.

Please ensure all documents are valid and copies are clear.